FOCUS – CONTROL – CENTER – FLOW – PRECISION – BREATH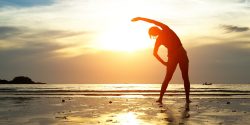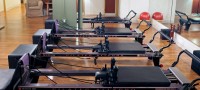 GROUP CLASSES :
 Monday 7pm – Intermediate Mixed Apparatus (IN STUDIO)
NEW! Tuesday 9:30am Beginner Reformer (IN STUDIO)
NEW! Tuesday 12:30pm Reformer (IN STUDIO)

Tuesday 6:45pm – Beginner Mat (VIRTUAL)
NEW! WEDNESDAY 8am Reformer (IN STUDIO)

 Wednesday 6pm – REFORMER (IN STUDIO)

Friday 12:30pm – Reformer (IN STUDIO/VIRTUAL HYBRID)
Saturday 10:00am – Multilevel Mat (VIRTUAL)
Sunday 10:00am – Intermediate Reformer (IN STUDIO)
Sunday 11:00am – Beginner Reformer (IN STUDIO)
---
Mat Classes
Quantum Pilates Group Mat Classes embody the foundation of the Pilates Method. Our group classes make your fitness journey simple, without gimmicks, confusing choreography, or loud distracting music. We use only your body, mind and a mat to lead you through the 34 exercises as outlined in Joseph Pilates' book "Return to Life through Contrology". With the help of the basic principles of Pilates; FOCUS – CONTROL – CENTER – FLOW – PRECISION – BREATH, it will become clear that the challenge is in how the exercise is performed. Our classes, from beginner through advanced, will teach you how to be conscious and challenge your body. What you learn here, you can take with you into your everyday life.
Machine Classes
In a Quantum Pilates Group Machine class, the equipment adds springs to the equation, adding resistance or assistance to the movements, which can be used to additionally challenge the muscles. Our thoughtful approach to machine classes ensures that you won't just benefit from the exercises on a physical level, but a mental one too. Just as in our mat class, the focus is not on competition with your neighbor or pumping music, but rather on challenging your own body and mind to be conscious and the best it can be.
If you are new to the Pilates equipment, we strongly recommend that you take the one-on-one 2 session Machine Orientation prior to signing up for a group machine class, in order to become familiar with the equipment, terminology and exercises, for safety and maximum benefit.
For Newcomers: Before You Sign Up For Pilates Classes
If you're recovering from an injury, or have any other health concerns, we recommend starting your Pilates journey with a private session to learn how to appropriately modify your workout for your condition. Quantum Physical Therapy may well serve your rehabilitation needs, and as always, consult your health care professional. Find out more about our Physical Therapy offerings here.
Schedule